In mid-July, while our Maine campus was welcoming new second session arrivals, while the College League rosters were being developed, while everyone was rushing through their day, our 34 CITs were canoeing through the supreme beauty of the Amazon Rainforest headed towards the Kichwa Pilchi community school.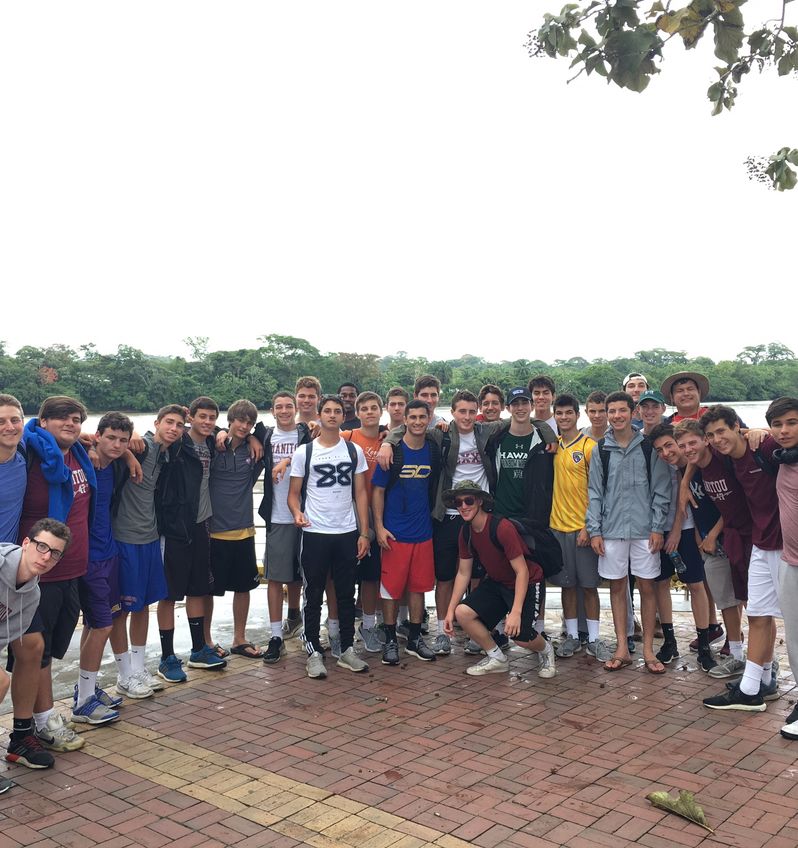 Manitou believes in Giving Back wherever we are – whether it's Oakland, Maine, our local home communities, or when we travel – to show appreciation for the people and places who host us. When we developed the changeover trip to Ecuador, we set out to provide a once-in-a-lifetime, bucket list adventure for our CITs. We planned rainforest treks, zip lines, landmark tours, fishing, yoga, and other memorable experiences, but we intentionally built in time to Give Back. Hosting a Carnival Day in a village near our lodge was only a couple hours in our plan, but it became the highlight of our trip.
Wake up was at 5:30am – a feat for 16-year-old boys. After the malaria pill role call, mud boots were adorned and canoes were filled. The sun was just coming up as we paddled through the canals of the forest.
The group transferred to motorized canoes to navigate the Napo River towards the local village.
We arrived at the damp river banks carrying over 1,200 pounds of items to be donated. If you supported Pack for a Purpose, thank you!!!! Every item from our wish list was purchased and families of all age groups brought and shipped bags full of used clothes & sports' gear! Your support was much appreciated!
When we walked into the main community building, an open air gym with a cement floor and no electricity, we found 150 villagers, most children aged 2-14, waiting for our carnival of events including recreation, clothing donations, lunch, and dancing.
CITs quickly passed out a donated Manitou logo'd t-shirt to every kid while others worked hard at pumping over 80 soccer balls, basketballs, and kick balls for the games.
The Manitou boys and Amazonian kids weren't able to communicate through words, but they bonded through play. Epic rounds of giant Jenga were played – the entire room erupted in smiles every time the tower fell! A massive soccer game went on for nearly an hour with Manitou campers and Amazonian kids hustling and cheering. Kids who looked as young as 8 had mad soccer skills; every time one of the boys scored they earned an Ecuador soccer jersey making their day! The tactile play of legos allowed even more meet & greet between kids from very different backgrounds.
It was profoundly inspiring to see the juxtaposition of Manitou CITs and Amazonian kids happy together. Every single face exuded joy (except when we took photos of them, their faces immediately went to stone when we said smile, ha!). The images tell the story.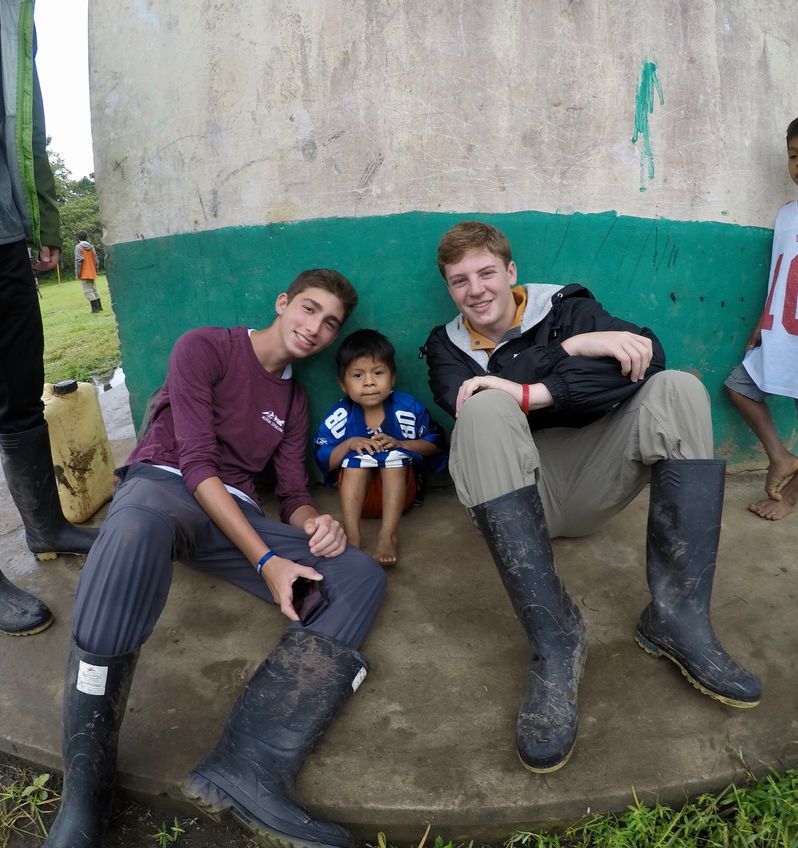 Following the games, CITs passed out hot dogs and sodas to the villagers. Lunch was a hilarious combination of cultures. Our guide told us this was likely the kids first experience with a hot dog. The curious looks were funny to see. Everyone initially seemed leery of the hot dogs, but they quickly began eating 2 or 3 per person. Even more funny – the Ecuadorian cooks slathered the hot dogs with mayo ruining them in the minds of our campers.
After lunch the villagers gave our campers a tour of their home. We visited their kitchens, crops, and had a try at a blow gun. Tradition is very important for the people of the Amazon. Growing, preparing, and eating food is the primary trade in the village. The techniques have been around for hundreds of years. One that caught our attention was their appetite for live and smoked slugs. Everyone tried a smoked slug – chewy – and a few of the brave even tried a live slug.
Both groups had provided a special experience to the other. Manitou provided a day of recreation while the village contributed a day of history.
The evolution of perspective was my highlight. Once we got together after the visit to the village and everyone was chatting about what a great day they'd just had, they began to put the pieces together about the stark differences between themselves and the locals.
At first, they were judgmental; "why don't they just stop having kids so they aren't so poor?" or "couldn't they just move somewhere less remote?". The feeling was almost of pity; our campers felt their own way of life was the right way to live.
But as they continued to reflect and probe each other – on the tight-knit families, the obvious care and appreciation for the community, the smiley faces they'd seen – our campers slowly developed tolerance. Right in front of my eyes their worldview shifted from sympathy to empathy. Thoughts went from my way of life is right to my way is one good way of life.
The villagers living deep in the Amazon have chosen to live there. They could easily move to a nearby town and work for an oil company. They could move to Quito to become a working-class citizen. They stay to preserve their people's tradition. They stay to respect their ancestors. They aren't that different from us. They love their family and respect their history. They are proud.
The self-perception of a 16-year-old is ever evolving; these few hours in a village taught one of life's most important lessons – we're all in this together. It isn't about right or wrong; it's about appreciating our differences.
-Stephen